Well, it's been a really fucking long time since I've uploaded anything to this blog. I have to say thank you to Robbie for keeping up with this so well. Shit's been a little crazy to say the least.
I'll be easing myself back into the flow of posting with this little gem, which I was lucky enough to stumble upon at Mystery Train Records in Amherst, Massachusetts just this Wednesday, actually.
This record was actually pressed on a whoooole bunch of different color combinations, in regards to the vinyl itself as well as the color of the cover and band's logo. My copy is on black vinyl and with black art and green text, one of the original approximately 1500 or so that seemed to be pressed. There were several later pressings as well, from what I understand.
Jawbreaker's
Busy
7" dropped in '89, the year before their debut LP
Unfun
, would be released. The title track of this 7" would also be featured on that LP, but the b-side, "Equalized," would remain a vinyl only track until the release of the band's b-side collection
Etc
.
The band certainly deserves their status as one of the seminal bands of their day, and this 7" showcases their brooding, visceral approach to punk. It seems strange to think that
Unfun
was released over 20 years ago, as it still seems to fresh every time I take it out and spin it (the 20th anniversary remaster souunds amazing, try to find one if you haven't yet!). Jawbreaker continues to influence and excite kids all over the world. There seems to be at least one kid in a bootleg Jawbreaker t-shirt at any punk show you go to anymore. You know the one I'm talking about, with the Morton Salt girl on it.
Anyway, check out this great record from this great band. Hopefully records like this will never die and always sound as relevant as they still do to some of us right now.
* * *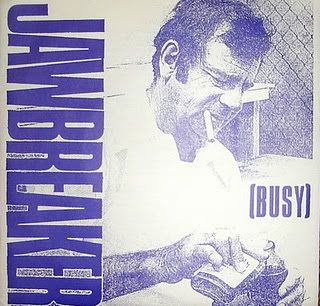 Busy (1989)