This band seems to finally be getting some of the recognition it deserves. After the departure of their synth player and original bassist, Pianos Become The Teeth, who hail from the greater Annapolis/Baltimore metropolitan area, have re-vamped their sound and recorded their first full length LP,
Old Pride
amid a hail of critical acclaim from the independent music world.
Pianos' firts EP,
Saltwater
, was a solid first release from a band finding their voice, despite the fact the band felt they had been cheated on the mixing and mastering aspect of the record, and when one listens to it, it seems true; the volume is not quite "competitive", and overall the record sounds a bit tinny and muddy. But songs like "Gift of the Giver" and "Houses We Die In" proved that the group was a force to be reckoned with.
By 2008, after getting some touring under their belt and writing new material the group released a split 7" with Ezra Joyce from New Jersey. Ezra Joyce's side is good; their solid, no frills brand of screamo works for them, and fans of Saetia should find their side of the split a welcome addition to their collection. But, in my opinion, Pianos' side dwarves it. I remember that one review I read of the record broke it down at "Epic screamo vs. even more epic screamo". And that's about right. The first song, "Creatures of Habit", clocks in at just under nine minutes long. It begins with a quiet, slow guitar riff that wouldn't sound out of place in the middle of a Mogwai album before slapping you in the face.
Part of the reason that Mike and Chad get away with so much outright post-rock riffs is the fact that their drummer David is an animal behind the kit; just when you think you put on a post-rock album by accident, vocalist Kyle Durfey's distinguishable yelp soars above the rock solid rhythm section and reminds you that you are definitely listening to Pianos Become the Teeth. The second and final song on the split is a re-recording of "Houses We Die In", and it sounds like an entirely new song. My one complaint about the recording is the sound clip...I can't help but skip over it every single time I listen to the song. It just seems a little corny to me. But otherwise, this is a monster of a song, lyrically, musically, aesthetically. And unfortunately, since they began performing the
Old Pride
material live, one I have not seem them play in quite some time.
Old Pride
differs from the first two releases for one obvious reason, which would be the absence of the synthesizer. But, aside from that,
Old Pride
differs because it is a more cohesive, mature musical statement. The percussion pummels you as the guitars schizophrenically shift and mold from pretty, delay-laden passages to crushing riffs with wild abandon that take directions completely different from what you were expecting to hear next. The album climaxes at "Cripples Can't Shiver," but the final two tracks draw the album out with a sense of conclusion, finally ending with the excellent instrumental, "Young Fire".
Guitarist Mike York also briefly played in and helped form Baltimore screamo outfit Age Sixteen. Check them out
here
.
Chad writes a really awesome blog called Stoking the Roots.
Check it out!
Order Old Pride

Myspace

* * *


Saltwater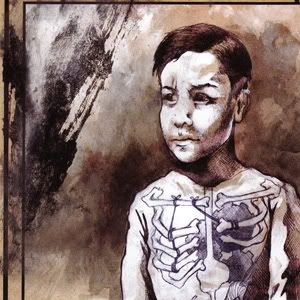 Pianos Become The Teeth/Ezra Joyce Split (2008)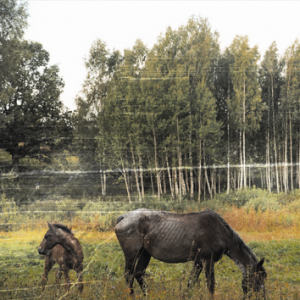 Old Pride (2009)