David Bazan has always heralded special attention in the independent music scene. For as many die hard Pedro the Lion fans as there are, there may be just as many running for cover as soon as they hear the word "Christian". The most common fallacy attributed to Bazan's body of work is that simply because he is a Christian his songwriting is somehow tainted. As one who doesn't believe in a supreme being, I can still say: entirely untrue.
Instead of writing songs that warrant group sing-a-longs and cheesy camera close ups of teary eyed teens holding their hands above their heads and singing to Heaven, Bazan's songs often directly confront his faith and the idiosyncrasies he faces as both a Christian and the modern man. Perhaps the best example of this is in "Letter from a Concerned Follower" (
Progress EP
,
The Only Reason I Feel Secure
), which directly questions God's ability to remain relevant in the modern world:

It's weird to think of all the things
That have not been keeping up with the times
It's ten o'clock the sun has just now
Begun to set the western hills on fire

And I hear that you don't change
How to you expect to keep up with the trends?
You won't survive the information age
Unless you plan to change the truth
To accommodate the brilliance of men, the brilliance of men

Some folks think we're better now
Social evolution's new synthetic will
Will keep us on a straighter path
As better men use brand new math
With no wrong answers

I'm just a little bit worried
Do you have some sort of plan?
Have you been finally defeated
By the cunning of these fully evolved men?

And I hear that you don't change
How do you expect to keep up with the trends?
You won't survive the information age
Unless you plan to change the truth
To accommodate the brilliance of men, the brilliance of men
It seems that far too often people are willing to write of Bazan's work as shallow and close-minded, but these individuals are guilty of the same narrow-mindedness as a Christian refusing to listen to hip-hop or punk rock. Although Bazan narrates his depressing tales from a Western Christian point of view, the themes in his work and his struggles with his faith are universal.
Certainly, on tracks like "Slow and Steady Wins the Race", Bazan's Christianity come to the forefront. Starting off with the line, "All the way to Grandma's house/I stayed on the narrow path/While my brother wandered off/Deep into the woods..." it serves as a sort of parable for the straight life vs. one of faithless hedonism, but even if one cannot buy into the story of personal salvation offered up by Bazan when he sings,
And when I get to Heaven
I'll be greeted warmly
Surrounded by the angels
As Jesus takes my hand
one cannot help but recognize the unbridled passion and longing in his voice as he delivers the lines.
But it is the juxtaposition of such songs with scenes like the ones described in "Rapture" (
Control
), which kicks off with Bazan's signature warble: "This is how we muliply/Pity that's it not my wife..." that allows us to explore the darker side of his struggles with faith and morality. As much as he is a Christian man governed by his faith, he is also a visibly mortal individual, concerned with far more than simply Jesus.
Like "Bad Diary Days" (
It's Hard to Find a Friend
), a perfect bitter break-up song; an account of a man who slowly comes to realize his girlfriend is cheating on him. And "When They Really Get To Know You They Will Run" (also on
It's Hard...
) takes a sarcastic look at Western culture's fascination with personal beauty:
i don't like girls the way they are
so shave their legs
and make them look like movie stars
then we can pretend it's natural

put on whatever makes you attractive
if it's not you then do it for the sake of fashion
your friends like a certain you
that's who you've got to be
Some are put off by Bazan's lyrics. Others, simply his faith. Others still cannot get behind his bassy voice and deceptively simple song structures. I for one cannot get enough!
I am missing basically all the singles and the Christmas singles, if anyone has them I would really appreciate being able to add them to my collection!
P.S. Keep on the lookout for a post of David Bazan's post-Pedro output, including live performances, and a rare pre-Pedro demo.


Here is an old video of David performing "Diamond Ring", a favorite of mine.



* * *


Whole (1997)
It's Hard to Find a Friend (1998)
The Only Reason I Feel Secure (1999)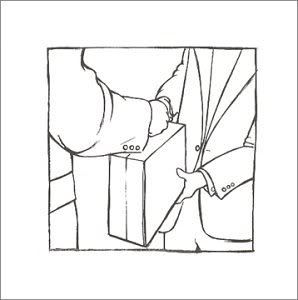 Winners Never Quit (2000)
Progress EP (2000)
Control (2002)
Achille's Heel (2004)
Tour EP '04 (2004)
Stations EP (2004)