First off, I would like to say that Kidcrash and The Kidcrash are the same band.
Anyways, Kidcrash is four piece based up in Washington, originally from New Mexico. They play some really original mathy screamo, and used to be a pop-punk band. Their first album, New Ruins, is on iTunes, but Kidcrash has this to say about it:

"Please don't order this cd (New Ruins). After spending more than $10,000 of our own money recording it, Lujo Records continues to try to justify their right to continue to collect 100% of the royalties from mp3 sales, after four years of selling the album on itunes and amazon. At one point we requested a box of cds for a show, they sent them way too late and they didn't arrive for the show. We never ended up selling them, but according to them we still owe them $400 for those cds and with that included they are still out about $500 recouping their $2000 investment. Reality is, we are still out about $8000, and they are honestly out maybe $200-$300 and have plenty of copies of the cd left. But there is no way for us to know how much they have made off of the sales of our mp3s. We have, on multiple occasions demanded that four years is long enough, and that the mp3s be removed from itunes. The response has been a load of bullshit about how we will get 50% of the royalties once the label recoups. But we don't want those royalties, and don't want to make money for those music monopolies. Amazon.com does not have the legal right to sell our mp3s and continues to after hours and hours of phone calls; we never signed anything granting Lujo Records the right to sell our music on iTunes, so when the time comes and we want it taken down, they have no right to refuse to respect our wishes. After all, they dropped us in a myspace message, why are they holding on so tight to our music. The only way we can force this to stop is by giving away this album. We wouldn't ever want to encourage people to listen to this album with the belief that if you like Jokes that we think you'd like New Ruins. So it is only posted here in protest of Lujo Records' lack of consideration for our wishes and legal rights as the composers, and REAL financiers of the record. DO NOT BUY IT!"
After releasing New Ruins, they progressed wonderfully with every ensuing release, including the rare EP "I Haven't Had a Date..." and the self titled 2006 demo. Their full length Jokes is a screamo masterpiece.
They put up all their recorded music on Denovali a while ago, including rare pre-New Ruins demos and releases put out by the band early in their career; however we didn't download them before they were taken down. If anyone has these releases, please comment.
If you like what you hear, buy their shit off of
Slave Union
and
Denovali
or whatever, BUT NOT ITUNES!
Here's a video of them doing A Conduit Rather Than A Vault.
* * *


New Ruins (2004)
I Haven't Had a Date in Four Years Goldie Hawn Goldie Hawn Goldie Hawn (2005)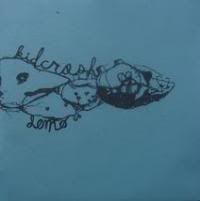 Demo (2006)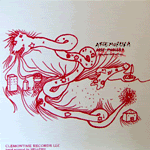 'Misspellings' Arse Moreira Split 5" (2007)
Jokes (2007)
Coffin Dancer Split 10" (2007)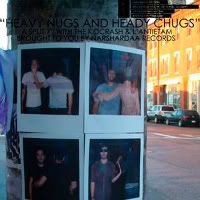 Heavy Nugs and Heady Chugs - The L'antietam Split (2008)