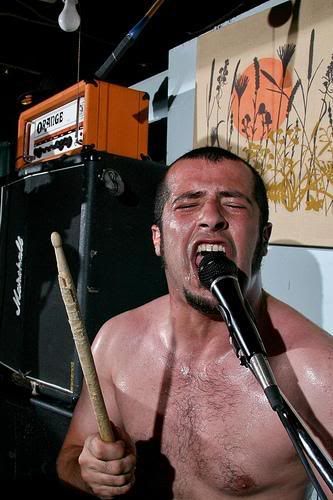 Over this past summer my drummer took me to a show at the
Dudebrohaus
(the one in D.C.) to see a band called Capsule play. I had only heard a few of their songs, albeit while fairly stoned, so I didn't really know what to expect. We got there pretty late. As we entered the basement
Furnace
had literally just struck the last chord and were starting to tear down. I was a little dissapointed I didn't get to see them play, but there will be other tours for that. We didn't really know anybody so we hung around in the basement waiting for Capsule to set up.
As soon as Capsule started playing I was blown away. Between the machine gun drums, the frantic attack of the guitar, and the guttural spasms of the bass, my stoned brain began to swim, and before I noticed I was swaying back and forth. What really blew my mind most was the drummer. He hit the drums with such a ferocity I was convinced he was going to shatter the wood and snap the drumhead clean off. He was built like a goddamn rhino and would actually stand up and start beating the fuck out of his drums as hard as he could. It was the most interesting and intense drumming I've ever seen! After the set I picked up a copy of the LP/CD edition of "Blue", the 7", and a t-shirt.
Capsule's sound is spastic, featuring heavy drumming and fast paced guitar riffs. The vocals are kind of down in the mix, and feature a sort of shouted quality. I would recommend the first three tracks off of "Plus" as a starting point. These tracks were actually added to the "Plus" release, I believe as a re-issue (hence the superior quality of the first three tracks to the rest of the album). "Josephine's" off of "Plus" is also a highlight, and the whole "Blue" album just fucking rules.
You can buy Capsule merch(!!) at the
Robotic Empire webstore
.
Or check them out on
Myspace

This is a video from the show I attended (At the end I'm the one in the hat and glasses and my drummer is in the red hoodie):


* * *

Blue
Plus
Couldn't find a decent picture of "Plus". Help me out in a comment if you can.