Botch
is one of those band's whose impact goes unnoticed by so many kids. Bands like Norma Jean, not to mention hundreds of other such modern "hardcore" bands are totally in debt to Botch's sonic impression on the genre. All you need to hear is one song off of "O God the Aftermath" (Norma Jean's second full length) to realize just how...closely that groundwork is followed. But this isn't the place to talk about Norma Jean's shortcomings as a band.
Botch formed in 1993, according to AP's (yes, AP) oral history of Botch, as a bunch of bumbling kids sharing a love for hardcore music. In fact, Dave V. claims he started screaming because he was so horrible at singing. The band's first full length,
The Unifying Themes of Sex, Death, and Religion
was released in 1997, quickly followed by a signing to
Hydra Head Records
and the ensuing release of
American Nervoso
in 1998. 1999 marks the year that Botch would leave perhaps their greatest impression on the American hardcore scene.
We Are the Romans
was Botch fully realized: epic as fuck. Dave Knudson's mathy, intricate guitar work came to the forefront on this album, held together by a rhythm section apparently hell-bent on punishing their instruments. And lyrically, Dave V. had hit his full stride, writing lyrics that make up the stuff of legendary basement sing-alongs. From a dissection of organized religion in "Saint Matthew Returns to the Womb" to the ultimate juxtaposition of American society to Greco-Roman tradition encased in the album's title, Verellen's themes had taken on as grandiose a scale as Knudson, Cook, and Latona's musical compositions.
Interestingly enough, the fifth track on the album, "C. Thomas Howell as the Soul Man" is about a band featuring future members of the now enormously commercially successful Fall Out Boy (no link needed, I think we've all heard them...)
Racetraitor
. Racetraitor was a vegan straightedge band featuring Andy Hurley on drums as well as a certain Pete Wentz as a frequent live fill-in on bass (both now members of Fall Out Boy). They were known for their radical far-left politics, and for lack of a better word, preachiness. Apparently, this didn't sit well with Dave V., who's contributions to the track include lines like, "The worst music I've ever heard, honesty that touches a nerve/The words fall onto the floor, drove home with no lessons learned," and "Stop the show listen up cause we've got something to say and it's important/Can't hear the notes you play or the words you say and you're not changing the world." Just thought that was an interesting little anecdote...
In any case, Botch left us with three full lengths, a few splits, an EP (my personal favorite!), and a posthumous live CD/DVD. Almost all of Botch's recorded material is included below. (I'm missing the Black Sabbath cover I believe).
Members went on to form bands like
Minus the Bear
and
These Arms are Snakes
, and have been associated with projects like
Russian Circles
.
This video is of the last song they ever played live. Yes, that is Brian Cook fighting with security. Yes, they are destroying the stage lights. Yes, it is total fucking destruction.




* * *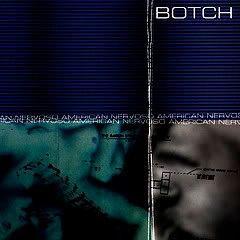 American Nervoso Re-Issue (2007)
We Are the Romans 2 Disc Re-Issue Disc 1 (2007)
We Are the Romans 2 Disc Re-Issue Disc 2 (2007)
Unifying Themes Redux (2002)
An Anthology of Dead Ends (2002)
061502 (2006)