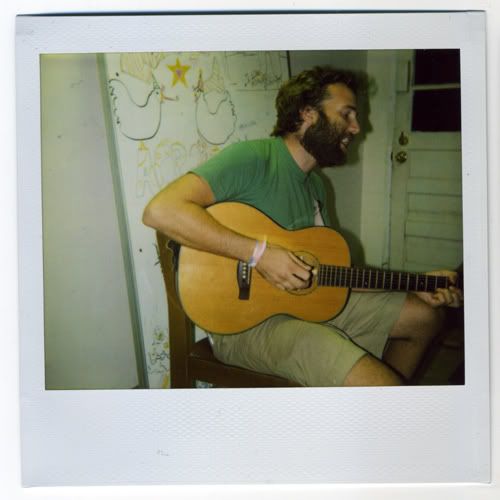 Paul Baribeau



Busman's Holiday



Jake Lazovick

Last night I got the chance to head out to Baltimore to finally see
Paul Baribeau
live. He has played Baltimore (and Frisby House) a lot but I had never gotten a chance to see him before. I also don't get the chance to head out to too many shows anymore because of my crazy work schedule, so it was awesome to be able to get too go to as intimate a venue as Frisby House.
Jake Lazovick opened the show. Jake is an awesome kid. He stills goes to high school at Wooton on the outskirts of D.C. and he plays acoustic folk punk. He's been in bands like Braceface Mini Punx, Foozle, and Bookworm. He writes heartwarming, goofy, and good natured songs about things like high fives, the horrors of small talk, and hanging out with your friends. It's always fun to see him play.
Next was
Busman's Holiday
, who I had never heard before. It was definitely a pleasant surprise. Lewis and Addison Rogers (who are actually brothers, apparently) make up a two piece with guitar, and a quirky drum set featuring a suitcase for a bass drum. They play beautiful, sentimental acoustic pop gems with amazing harmonies. They put on an amazing show and were funny, interesting, and witty too boot. True entertainers.
Paul Baribeau
closed the show. He just came out with his new record,
Unbearbale
, but his set list was a great mix of new songs as well as old staples from his repertoire including "Ten Things," "Christmas Lights," "I Miss That Band," "Strawberry," and even the odd jewel "Table Cloth," which features just voice and percussion provided by Baribeau's knuckle on the body of the guitar. He was everything you expected him to be, between going off on tangents about Bloomington and his life at his parent's house in Michigan, or making the drummer of Busman's Holiday do all his between-song banter for a couple of songs during the beginning of the set after claiming, "I'm not doing banter anymore." He even poked a little lighthearted fun at Andrew Jackson Jihad when there was an announcement about their show at The Bell Foundry on the
23rd
.
The songs seem that make up
Unbearable
are a bit more mellow than those on
Grand Ledge
, which was mellow compared to the upbeat, raucous songs on his debut self titled. But Baribeau offering a less in-your-face approach doesn't mean he's lost any of his initial vest and vitality that drew you to him as a songwriter in the first place. In fact, it works to his advantage, especially in the live setting. His songs still barely surpass the two minute mark, but songs like "If I Knew" and "Blue Cool" work perfectly to showcase Baribeau continuing to grow as a lyricist of brilliant pop-folk songs while retaining his signature snappy, palm-mute laden guitar with new flourishes thrown in that do not disappoint at all.
"Black Strat" might be the best song on the album. Baribeau introduced the song live as "maybe being about Pink Floyd," before giggling and going off on a tangent about listening to Pink Floyd when he was 10 years old. Whatever it's about, it's mesmerizing, with a brilliant chorus:
It was holy
It felt so holy
I said holy shit
Anybody else uttering the same line might come off as contrite or vulgar, but Baribeau's endearing, unmistakable voice make it sound like a revelation. Which is part of what makes Paul Baribeau continue to be such a beloved and relevant songwriter. He sounds like he could be anyone in the room; he just happens to be the one holding a guitar.
* * *

Jake Lazovick - Us and Only Us Split


Busman's Holiday - Old Friends (2010)
Paul Baribeau - Unbearable (2010)