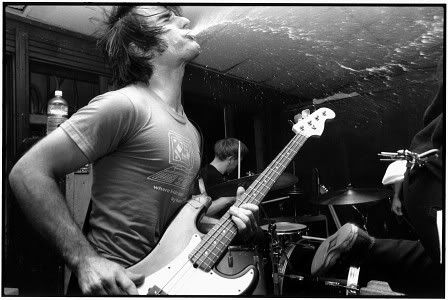 It's often said that if L.A. invented hardcore, then it was D.C. who perfected it. Dischord Records has been a mainstay in the indie scene since it's inception in 1980, when two young men from the 'burbs named Jeff Nelson and Ian MacKaye were looking for an alternative vehicle to release and distribute material by their and their friends bands. Dischord's first release,
The Teen Idles EP
, which both Nelson and MacKaye played on before moving on to the enigmatic hardcore group Minor Threat, was recorded and released after the Idles had broken up and Minor Threat had formed. Several other bands had also appeared on the scene - bands like Government Issue, (which Minor Threat guitarist Brian Baker would play in while Minor Threat was on hiatus from 1981-1983), Youth Brigade, and a band called S.O.A., which featured a raucous man named Henry Garfield on vocals, who in a few years would be better known by the surname Rollins, as the controversial frontman of hardcore godfathers Black Flag.
Fast forward eighteen years and the makeup of the hardcore scene and independent music scene in Washington D.C. has changed drastically. Many have considered hardcore dead since around '84 or '85, when the genre became too formulaic and veterans like MacKaye moved onto emotive, less politically oriented music tagged "emo". Punk has been exploited and mass marketed, as something called pop-punk, engaging prepubescent teens in it's catchy hooks and misanthropic lyrics. About the only thing that has remained the same is the fact that the Dischord house still lies nestled quietly away on Beecher St. in the suburbs of Washington.
Enter Q and Not U onto the scene, whose debut in 1998 was as a band who apparently claimed to write music for house parties, a far cry from the visceral serious mindset of Mackaye's lyrics on the first Minor Threat EP. A new generation of Dischord bands was being born, and in the coming years groups like Q and Not U, Black Eyes, and Faraquet would re-establish D.C. as a booming hub of independent music, by making inventive and experimental post-hardcore without becoming disengaging, making connections to young and old alike that bands like Lungfish, no matter how critically acclaimed they may be, simply could not.
The band's 2000 debut
No Kill No Beep Beep
certainly would not sound out of place being played in the basement at a debauched house show. The sound of the record infused catchy post-hardcore with tinges of emo, a danceable beat, and socially and politically conscious (although often cryptic) lyrics. The album is unique in the band's repertoire because it is their only release (besides their debut 7") on which original bassist Matt Borlik appears, greatly altering the band's sound. Highlights on the record are, well, every single song, but some of the finer moments include the anti-fashion statement of "Fever Sleeves", the cathartic, introspective "Kiss Distinctly American", and my personal favorite song by the band, "Y Plus White Girl", a short snippet of a song with perfectly crafted guitar parts and edgy, emo-esque vocals.
Different Damage
, was released in 2002 after the departure of Borlik. Guitarists Chris Richards and Harris Klhar would trade off guitar and keyboard duties both on the record and in live concert. The album is vastly different from
No Kill No Beep Beep
. The band is far more subdued, their melodies more off-beat, the music more challenging. The opener "Soft Pyramids" starts off with an odd sing-a-long: "S-O-F-T-P-Y-R-A-M-I-D-S-E-V-A-P-O-R-A-T-E at daylight," and is apparently about gentrification, or maybe homogeneous, planned communities. The second song, "So Many Animal Calls" is about the American healthcare system, and from there, the lyrics are a bit more open for debate, but obviously still retain the feel of their politically stamped trademark. The more experimental, indie, and keyboard driven sound of their second LP is something that would remain with them for the rest of their careers.
Unfortunately, their third and final LP,
Power
doesn't quite hold up to the first two albums. Maybe it's just me, but I've read plenty of other reviews that deem the album disappointing as well. Even if the band didn't quite go out with a critical bang, the album sold well, and Q and Not U had become established as an indie powerhouse before their breakup in 2005.
They deserve their recognition as one of the most influential D.C. bands of all time, and I have to say that their music makes me feel some weird sense of nostalgia, even though I was admittedly far too young to take any kind of part in what they or the Dischord scene at the time was doing.


* * *


Hot and Informed (2000)
No Kill No Beep Beep (2000)
On Play Patterns (2002)
Different Damage (2002)
"Don't Let It Bring You Down" by Neil Young from Don't Know When I'll Be Back Again, Vietnam Veterans Benefit Compilation (2003)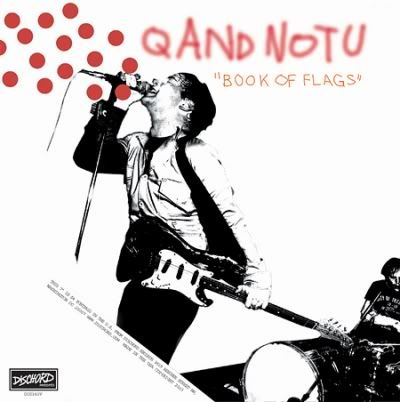 Book of Flags 7" (2003)
Power (2004)