At the Black Cat in Washington D.C. on Monday night, a packed, hot room noisily awaited Jason Molina and his band, the Magnolia Electric Co., to take the stage. The bar was crowded, and before the show Molina himself was posted up next to the door into the concert room, beer in hand, slightly rocking back on his heels and chatting to a band mate seated at a bar stool, who still might have had a good few inches over Molina as he stood next to him.
Molina's short stature might surprise some who have never had the pleasure of seeing the man in person: few would suspect that the broken wail of the man who recorded some of the most haunting alt-country tracks released in the past two decades came out of such a small package. Since abandoning his Songs: Ohia moniker however, which Molina recorded under from 1996-2003, Molina's naked vibrato of a voice has given way to a lilting croon, a shift which some (read: Pitchfork Media) have lambasted, accusing the artist of dumping his past musical and vocal styles for a lame-duck, classic rock makeover.
What should be remembered here though, is that Molina as an artist has never had any qualms about taking on new artistic direction and following his heart. Like Dylan and Young (who he is often compared to) before him, Molina's every musical move is often scrutinized by a die-hard fan base that for the most part seems to prefer the Songs: Ohia era to the Magnolia Electric Co. era. Rather than having to deal with completely confused, clueless, and naive reporters like Dylan would often run into (such as the reporter Dylan gives a stern talking-to in the iconic 1967 D.A. Pennebaker documentary
Don't Look Back
), Molina's albums tend to fall into the hands of individuals who know his work well; Oftentimes, pretentious and critical media outlets (read: Pitchfork). Artists inevitably change and take on new directions in their work, a fact that all too many music critics have failed to take into account since the beginning of musical criticism.
Granted, there are artists who's work take bizarre and unsuspecting turns, which do not always work out (like some of Dylan and Young's more questionable work in the 80's, for example), but Molina is hardly proclaiming himself a born-again Christian or writing a a vocoder-laden synth-heavy album (yes, Neil Young released an album like that (1982's
Trans
)...stick to
Harvest
, believe me). Molina's stylistic shift since the last (technically) Songs: Ohia album
Magnolia Electric Co.
is one that should be welcomed, and a move that largely is by his faithful fans, despite all the detractors (read: PITCHFORK). If the man was still releasing albums with just his voice, a guitar, and brushed drumming I have a feeling that Pitchfork would be throwing out some 5.6's for a lack of originality just the same as they did for Molina's newest album, released two days ago, entitled
Josephine
, for a departure from his older work.
Magnolia Electric Co.
, the 2003 album which featured the debut of Molina's new, band-driven sound was an absolute bone-crusher. Every single song of the album stood as one of Molina's crowning achievements, even the two songs on which other band members sang (he still penned the lyrics), a move which has also been criticized by some, but I think was Molina's way of stubbornly stating the the Songs: Ohia days were over. Since picking up a full band, Molina has also released two full length LP's under his own name,
Let Me Go, Let Me Go, Let Me Go
(2006), a dark, quiet acoustic record, and the more dense, weirder
Pyramid Electric Co,
(2004), which came out shortly after
Magnolia Electric Co.
a coupling which is briefly and cryptically explained in the liner notes to that album:
...I started to feel like two records were going to come out of what I was seeing and thinking. The two have ended up being one I did alone with a piano and a guitar: The Pyramid Electric Co. and one where I called some friends together: The Magnolia Electric Co. I think they both mean something. I don't know what, but trust me, I am working on it.
Previous to the release of the first Magnolia record, Molina had put out 24 (count 'em, 24!) releases as Songs: Ohia, one collobartive 7" with Scottish artist Alasdair Roberts, and one record with Bonnie 'Prince' Billy and Alasdair Roberts as the Amalgamated Sons of Rest in 2002, not to mention exclusive compilation tracks and other random appearances.
Since then, Molina has been no less prolific, putting out three LP's, two EP's, a live album, two solo LP's and a 7", as well as the massive
Sojourner
boxset put out in 2007, which featured three full length albums, one four song EP recorded at legendary Sun Studios in Memphis, a documentary DVD, as well as a celestial map and medallion all encased in a wooden box. Granted, Magnolia's 2006 LP
Fading Trails
was compiled from the recording sessions found on
Sojourner
, but that hardly takes away from how much studio time was put into the sessions themselves and how massive a collection of music this is, even without counting the tracks that would appear on
Fading Trails
.
So it can be safe to say that on Monday night Molina and his band, a bassist, drummer, keyboardist, and lead guitarist, had a large canon of material to choose from, even excluding all the Songs: Ohia and solo material, which, keeping in the Molina tradition of playing only newer material, the band does not perform live. The set list spanned the entire Magnolia Electric Co. catalog, and did not disappoint anyone judging from the crowd's reactions. There were a few cuts which I would have liked to hear (such as "Hammer Down", and "The Dark Don't Hide It") but he played a wide array of songs, including a notable and dour version "I've Been Riding With the Ghost", and a rare performance of "Hold On Magnolia" (both from
Magnolia Electric Co.
), "Hard to Love A Man", "Leave the City" (2005's
What Comes After the Blues
), and a whole slew of cuts from the Sojourner sessions including "Down the Wrong Road Both Ways", "Talk to Me Devil, Again", and "What Comes After the Blues".
The set was also peppered with songs from the new album
Josephine
, and were some of the highlights of the set. A slight reworking of "Rock Of Ages", which appeared on the 1000 piece limited "It's Made Me Cry" 7" released for Record Store Day this year was a pleasant surprise; it fits more into the "old" sound of the new record.
Josephine
as a whole seems to mix elements of MECO's earlier work with a more mellow, subdued side, featuring delicate backing vocals that would not feel out of place on a record released in the 1950's. The album is far more, for lack of a better word, pretty, then MECO's last LP,
Fading Trails
. The emphasis is laid much more on the piano in most of these songs (and on the slightly funky "Little Sad Eyes", organ) than the guitar-oriented work on the
Sojourner
sessions.
Live, the band kept the tracks off the new record mostly true to their album versions, and tended to take more liberty with the older songs. Molina kept asking the time throughout the set, and at 11:59 (since July 21st was the official release date for the album) paused before saying, "Welcome to the stage, Josephine..." as the band kicked into the new album's title track.
Overall, his band was tight, knowing when to step up and solo, and when to
let the lyric take center stage. Molina seemed to be in good humor, at one point told an anecdote about how he accidentally swallowed a bee during his dinner in the club's cafe, and later, as he took a long swig off of one of the Corona's next to his amp remarked, "The bee's getting drunk, though."
The band quickly re-took the stage for an encore, and despite a few isolated calls for "Hammer Down", and one lame yelp for "Captain Badass" (from Songs: Ohia's
Axxess & Ace
), dove into a raucous version of "John Henry Split This Heart" from the
Magnolia Electric Co
LP before finally calling it quits...It was definitely a great ending to a great show.
Below you can download every Magnolia Electric Co. release.
I feel like I should apologize for posting just as much alt-country as punk lately, but I at the same time that artists like these embody the DIY punk aesthetic just as much as any other band, and it's good to have a little variety every once in a while, right? Look out for most posts soon, sorry we've been so lazy.
Read the
Pitchfork review
.
Magnolia Electric Co. (2003)
Trials and Errors (2005)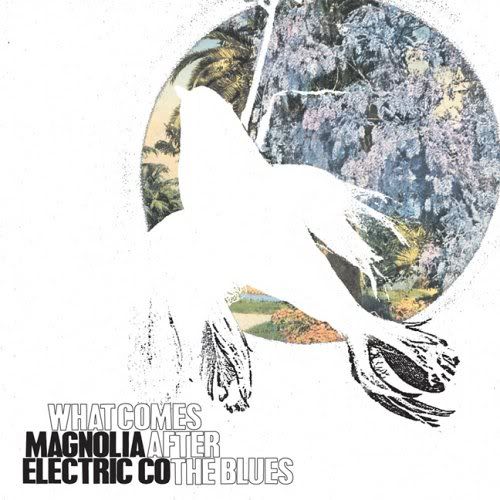 What Comes After the Blues (2005)
Hard To Love a Man EP (2005)
Fading Trails (2006)
Sojourner Box Set (2007)
Disc 1: Nashville Moon
Disc 2: Black Ram
Disc 3: Sun Session EP
Disc 4: Shohola
It's Made Me Cry 7" (2009)
Josephine (2009)