When I heard Bill Callahan was touring to support his new album,
Sometimes I Wish We Were An Eagle
, I got pretty excited.
Callahan, a native of Silver Spring, Maryland before re-locating to Chicago, and currently, Austin, Texas, is one of the more prolific singer-songwriters of his generation; his career spans just over 2 decades and 13 full length records (not to mention numerous EPs), from his first humble lo-fi cassette release to his latest LP.
Under the guise of his
Smog
moniker, Callahan's music morphed from lo-fi, mostly instrumental experimentation on 4 track records (his early career seems to have been heavily influenced by such artists as atonal pioneer
Jandek
), into
more country-tinged, lushly recorded outings such as
Red Apple Falls
and
Supper
, not to mention his monstrous 1999 outing
Knock Knock
.
Following the release of 2000's
Dongs of Sevotion
, Callahan found himself with 7 LP's under his belt, 6 of which were released on the Chicago-based
Drag City Records
(which he remains signed to today), as well as one LP and several cassettes released by himself as Disaster records. A third major shift in artistic direction would take shape beginning on 2001's
Rain on Lens
, which would see Callahan stripping down the instrumentation on his records while continuing to write lyrically driven songs.
By 2007, Callahan had dumped the name Smog and released his first record under his own name,
Woke on a Whaleheart
. In comparison with his previous realease, a melancholy masterpiece that many consider his crowning achievement,
A River Ain't Too Much To Love
,
Whaleheart
seemed upbeat and even a bit psychedelic (just check out the album cover).
The brand new
Sometimes I Wish We Were An Eagle
is somewhat of a return to Callahan's darker side; tracks like the haunting "Eid Ma Clack Shaw" and the nearly 10 minute long closing track "Faith/Void" are testaments to Callahan's wry sense of humor and lyrical abilities. There are also more upbeat (for Callahan at least) tracks to be found here; "Rococo Zephyr" and "Too Many Birds" are almost whimsical in nature. The heavy use of strings add a lot to album and Callahan's sound, in a way that took me a few listens to fully appreciate.
After buying my ticket a few days previous to the show and then finding out that all my friends had bailed on attending the concert with me, I set off alone down the beltway and into the city. This was actually the first time I had ever been to a concert alone, and I have to say that it was a pretty enjoyable experience, minus getting slightly lost in the clusterfuck that is our nation's capitol and having only myself to curse.
By the time I finally found parking on 14th St., by some stroke of luck, and getting 4 dollars in change and then walking BACK to the car to feed the meter ($4 got me a measly 1:35), and then BACK to the club, Callahan and Co. were about ready to begin.
I caught only about a song of the opening act Lights; I had never heard of them before. they played psychedelic, jaunty music, and featured a female vocalist/guitarist (donned in heavy eyeshadow and a shimmering gold hooded blouse and white heels) and drummer, as well as a brutish lookin' fella playing the bass. To be honest, I was not that concerned with the opening act.
Callahan took the stage, took a few moments to tune and fetch a glass of wine, and slowly walked up to the mic, and decidely, against the pound of the punk music playing from the PA, said, "We're ready." The music was cut, and his band, featuring a drummer, second guitarist, cellist and violinist kicked into the opening track on
Eagle
, "Jim Cain".
Callahan is as striking a figure in person as he is in photographs and on album covers. His calm demeanor and quirky yet graceful mannerisms gravitated all eyes on him for the entire set. He played for about an hour and fifteen minutes, with a set list that included "Rococo Zephyr" and "Too Many Birds" from the new album, "Our Anniversary (from 2004's
Supper
), "Diamond Dancer", and a more downtrodden version of "Sycamore" (from 2007's
Whaleheart
), as well as a heavily applauded performance of "Bathysphere", from 1995's
Wild Love
LP. He played a truly riveting version of "Say Valley Maker", complete with a tensely-wound string driven climax, and closed with Rock Bottom Riser (both off 2005's
A River...
).
After announcing "Rock Bottom Riser" as his last song (to which someone in the crowd responded, "Impossible!" as someone else quipped, "I seriously doubt it Bill!") and leaving the stage, the crowd politely clapped, hooped, and hollered until he re-took the stage, and to my great pleasure kicked into a raucous version of "Let Me See the Colts", one of my very favorite Smog tracks. As the song ended someone yelled, "One more! One more!," and Callahan, putting down his guitar and heading over the keyboard stated simply, "Two more," which was recieved with heavy applause. The band kicked into a stunning version of "Eid Ma Clack Shaw," and finally closed with "Cold Blooded Old Times," from 1999's
Knock Knock
.
Definitely one of the best shows I have ever seen. Below I have all three of Callahan's releases under his own name...Look out for a Smog post eventually.
Below are two videos: Callahan performing "Sycamore" with current love interest
Joanna Newsom
and the video for "I Feel Like the Mother of the World".






* * *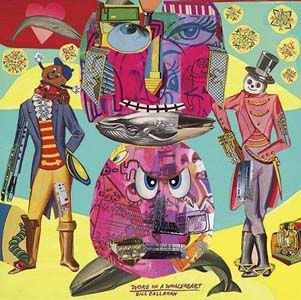 Woke on a Whaleheart (2007)
Diamond Dancer (2007)
Sometimes I Wish We Were An Eagle (2009)